#Studios44MocapLab It is the dance studio of Cie Gilles Jobin that has been recently renovated by the Ville de Genève and equipped for motion capture. Currently we have our offices, and it is the place where we rehearse our shows and perform the digital piece Cosmogony; Danced in Geneva and diffused in real time around the world. With this new form of diffusion, international tours are realized without carbon emissions.
We have developed a program of residencies for research and digital creation, from the point of view of live performance, which has the objective of facilitating access to digital technologies for independent artists and independent.
#Studios44MocapLab is equipped with a motion capture system composed of 42 Qualisys cameras.
RESIDENCES
The acquisition of equipment for digital motion capture provided by the Transformation project and the support of the Loterie Romande for the equipment and thanks to the renovation work provided by the Ville de Genève, allows us to receive artists and to think about the equipment of our studio as a common good that should also benefit the artists of our region and international.
With this initiative, #Studios44MocapLab wants to make our space and the knowledge of the technical and artistic team available to offer resources for creation and encourage research into new choreographic and digital languages and to welcome artists who work on digital creation from the point of view of live performance and the creation of new choreographic languages and new practices of access to live performance for new audiences in presence or connected at a distance.
ARTISTS IN RESIDENCE MOTION CAPTURE 2022
March 14 and 15, 2022 + June 15 – 26, 2022
Cie If (Geneva) Theater
Isis Fahmy (Geneva), Benoit Renaudin (Geneva), Raphaël Munoz (Geneva), Christina Antonarakis, (Geneva), Georgia Rushton (Geneva), Zoé Sjollema (Geneva)

8-13 November 2021 + 1-11 March 2022
Instituto Stocos (Madrid) Dance
Muriel Romero (Madrid), Pablo Palacios (Madrid), Daniel Bisig (Zurich)

June 27 – August 24, 2022
Brigitte Fässler (Basel) Performance/Visual art
Loan of motion capture equipment for motion capture research VR project

28 June – 9 July + 18 July – 26 July 2022
Zelia ZZ Tan (Hong Kong) and Pedro Ribot (Geneva) Dance

August 29 – September 2, 2022 + September 6- 20, 2022
Virtual Crossings Geneva Collaborative project Dance and multidisciplinary
Ivan Larson (Geneva), Maëlle Deral (Lyon), Susana Panadès Diaz (Geneva), Camille de Dieu (Geneva),
Laurent Novac (Geneva), Simone Aubert (Geneva), Pol (Geneva)

September 3 – 5, 2022
Anouschka and the Braid of Time (Los Angeles) AR project
Tamara Shogaoulu / Ado Ato Productions (Los Angeles-Amsterdam)

October 14, 2022
Richi Owaki (Yamaguchi) Dance

November 2022
ARi3L Rudi Van Der Merwe (Geneva) Dance
József Trefeli (Geneva), Susana Panadès Diaz (Geneva), Tristan Siodlak (Geneva), Pedro Ribot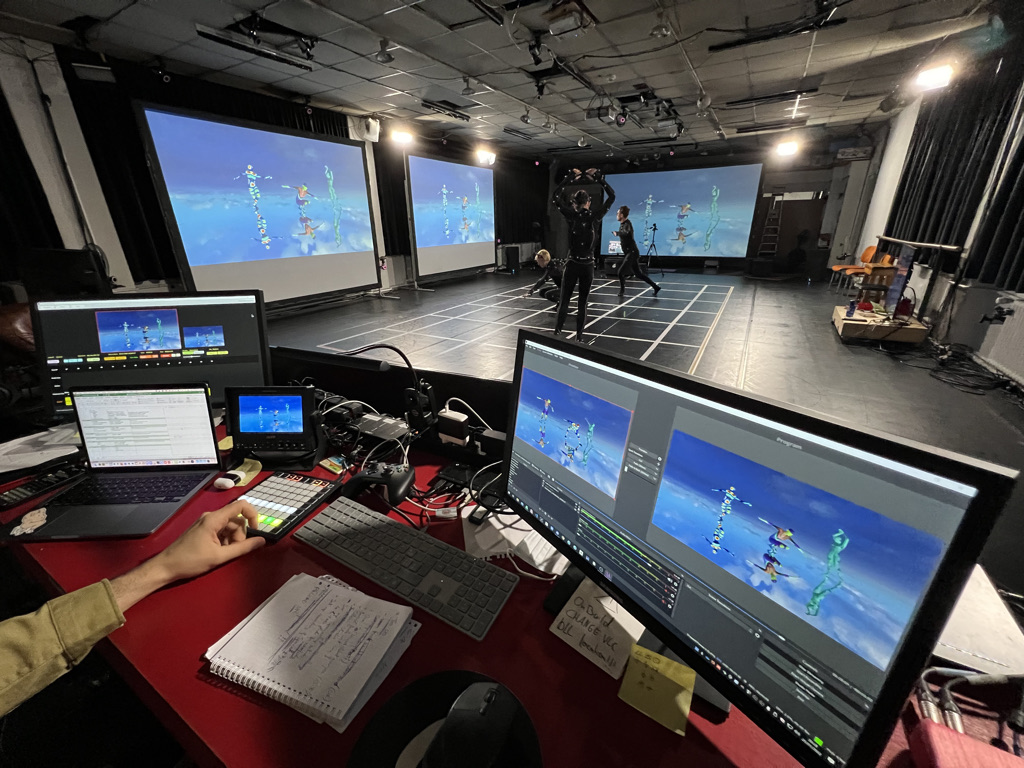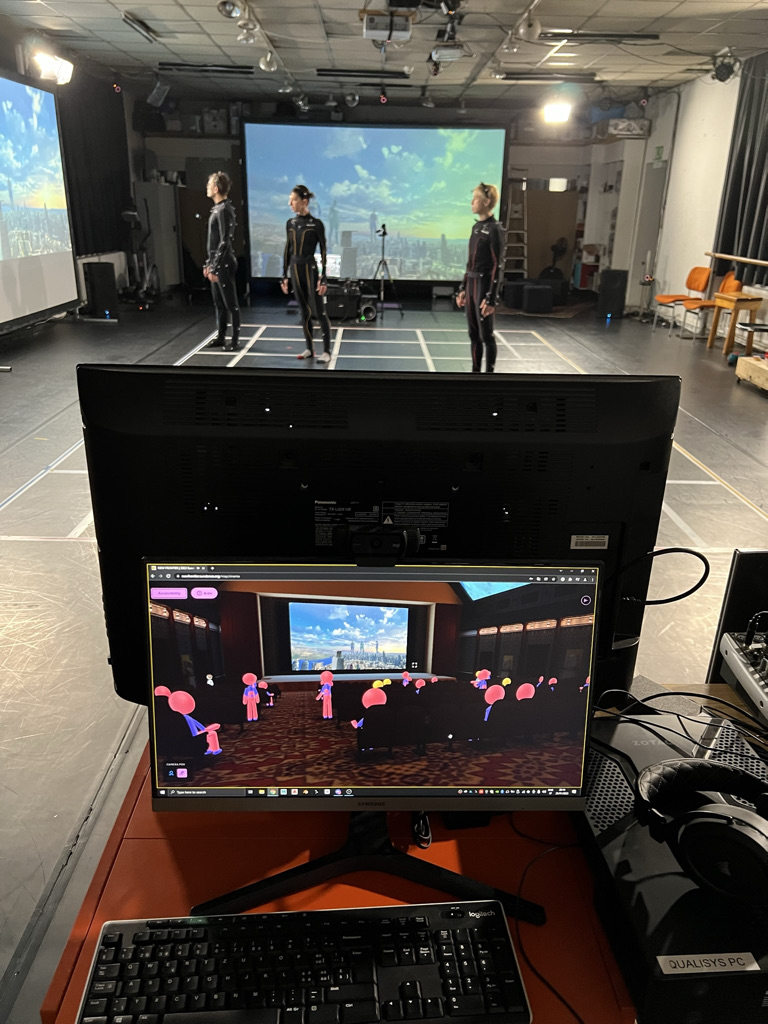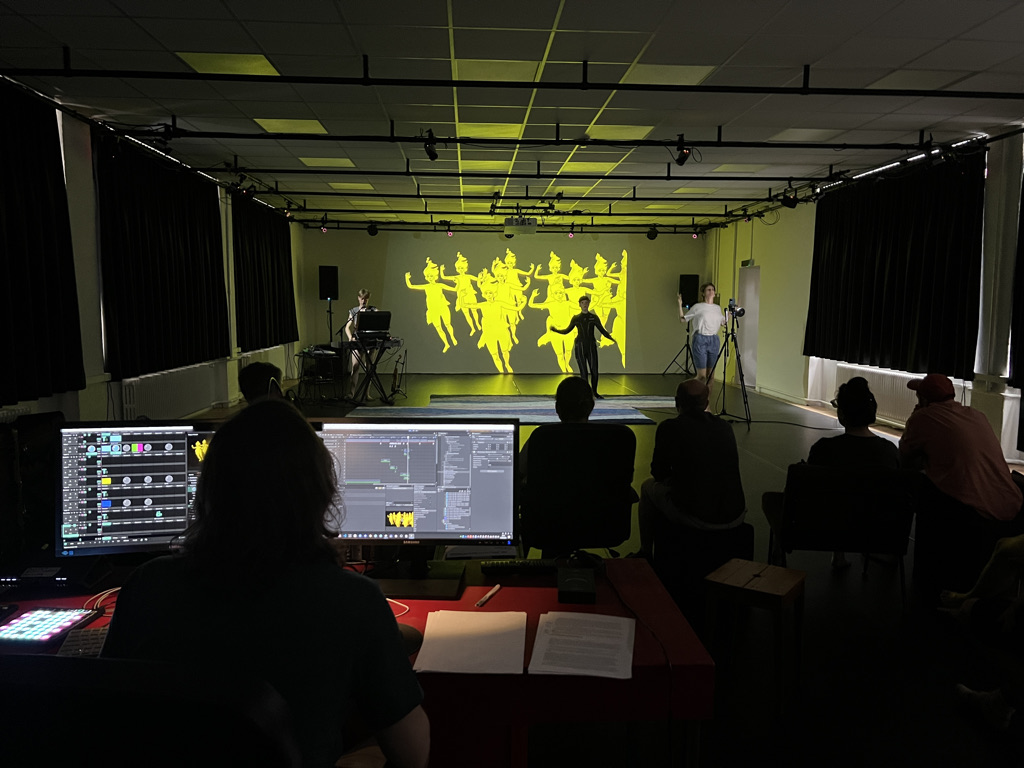 #TOURWITHOUTTRAVELING
With the arrival of the Covid confinement and also with the difficulties of travelling and the global warming problems, the Compagnie Cie Gilles Jobin has transformed its choreographic projects for the stage into digital choreographic projects and has turned to digital creation in real time, in order to be able to continue its creative activities and explore the new normal channels of distribution and to explore new digital territories for the creation of live art.

The pieces La Comédie Digitale -live show (multi user immersive VR in real time) and Cosmogony (2D projection in real time) can be danced in Geneva and transmitted in real time in the world. Cosmogony was created for the SIFA in Singapore, projected on a live building in Bucharest for the BIDFF festival and invited to the prestigious Sundance Film Festival on the West Coast of the United States. Several dates of Cosmogony are planned in 2022 in Italy, Egypt, Netherlands, United States in 2023 at Chaillot Théâtre National de la Danse in Paris, one of the most important institutions for dance in Europe.
One of the side effects of our new distribution is to have made our carbon footprint decrease drastically. In 2019, before covid, we have been in 10 countries and 17 cities on 3 continents and spent about 89.8 tons of C02. While we have continued to transmit internationally from our studio in La Coulouvrenière since the beginning of the crisis, we have not taken a single plane flight since 2019. If we had to travel with Cosmogony's 6-person team to Singapore, Bucharest and Park City on the West Coast of the United States, we would have spent 42 tons of C02 just for our economy class flights. In 2020, 2021, and 2022, the carbon footprint of our international distribution is nearly zero