Gilles Jobin – Choreographer
BIOGRAPHY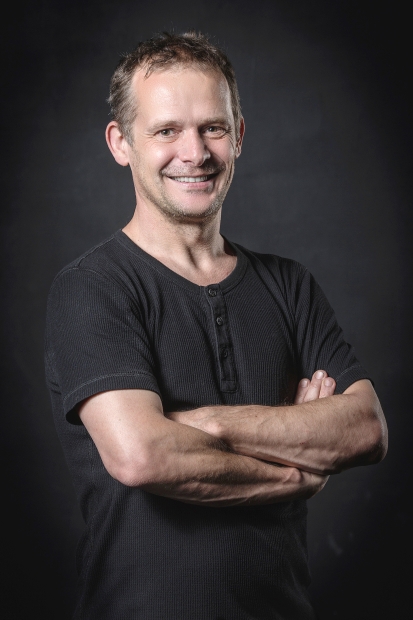 Internationally renowned choreographer Gilles Jobin has created some 20 dance stage pieces since 1995. In 2015 he received the Swiss Grand Award for Dance by the Swiss Office of Culture. Fascinated with new image technologies, Jobin directed WOMB, a 3D movie, in 2016. In 2017 he created the groundbreaking immersive dance piece VR_I which was awarded Audience and Innovation Awards at the Festival du Nouveau Cinema in Montreal. VR_I was featured at the 2018 Sundance Film Festival and as « best of » at the 75th Venice Biennale and has been featured in more than 40 venues around the world, including the Dance Biennale in Lyon, BAM in New York, Spiral in Tokyo…
In 2019 he creates Magic Window, a location based AR piece, and Dance Trail, an AR app that opened at the Sundance Film Festival 2020. With his VR and AR projects, Jobin addresses the issue of content creation for these new technologies from the viewpoint of performing arts. With his groundbreaking projects, he is considered as one of the leading figures in the world of creative XR. Gilles is regularly invited as a internatinal guest lecturer in Europe, Asia and Americas.
AWARDS
* 1998 : Bourse du Fonds d'encouragement à la création chorégraphique et musicale by the Société Suisse des Auteurs (SSA) for Braindance
* 1999 : ZKB Prize by the Zürcher Theater Spektakel for Braindance
* 2000 : Bourse du Fonds d'encouragement à la création chorégraphique et musicale by the Société Suisse des Auteurs (SSA) for The Moebius Strip
* 2000 : Prix jeunes créateurs de la Fondation Vaudoise pour la promotion de la création artistique
* 2001 : "Nouveau Talent Chorégraphique" Prize by the board of the SACD (Société des Auteurs et des Compositeurs Dramatiques, Paris/Bruxelles/Montréal)
* 2004 : Culture Leenaards Prize by Fondation Leenaards
* 2012 : Collide@CERN-Geneva Prize
* 2015 : Swiss Grand Award for Dance presented by Federal Councillor Alain Berset. On the recommendation of the Federal Dance Jury, the Federal Office of Culture (FOC) recognises the work of Gilles Jobin, a Swiss choreographer whose uncompromising vision has helped to shape contemporary dance for two decades and revolutionised it both in Switzerland and far beyond
* 2017 : Grand Prix Innovation and Prix du Public, Festival du Nouveau Cinéma de Montréal for VR_I
* 2017 : Best Art and Experimental Film, San Francisco Dance Film Festival for WOMB (3D)
PANELS/TALKS
SWITZERLAND – 6 November 2019 : GIFF, Geneva
Swiss interactive session (Dance trail)
SWITZERLAND – 5 November 2019 : GIFF, Geneva
Table ronde : Les expériences collectives en réalité virtuelle – quelle valeur ajoutée ?
With: Gilles Jobin – Cie Gilles Jobin, Sylvain Chagué – Artanim, François Klein – Digital Rise
Moderation: Douglas Edric Stanley (Media Design Professeur, HEAD – Geneva, CH)
WEB CONFERENCE – 29 November 2019 : KALEIDOSCOPE, DevLab
Lecture Series Talk : The Future of performing arts in virtual and augmented reality
FRANCE – 16 October 2019 : CONSERVATOIRE NATIONAL SUPÉRIEUR MUSIQUE ET DANSE DE LYON
Talk : Digital territories, new spaces for dance
FRANCE – 10 October 2019 : IMMERSITY, Les Assises de la XR, Angoulème
Atelier : Temps réel : définir le rôle actif du spectateur
ITALY – 30 August 2019 : 76TH VENICE INTERNATIONAL FILM FESTIVAL, Venice VR, Lazzaretto Vecchio
Panel: Learning from experience: 3 case studies on Gloomy Eyes, VR_I, Pagan Peak VR
With: Gilles Jobin, Antoine Cayrol & Kane Lee
SOUTH KOREA – 18 July 2019 : GLOBAL DEVELOPERS FORUM 2019, Seoul Forum
With: Gilles Jobin, Gianfranco Iannuzzi, Eugene YK Chung, Ahn Jeong-seok Mathias Jud
CHINA – 10 May 2019 : SWISSNEX CHINA, Chronus Art Center, Shanghai
Panel: Can Virtual Reality Revolutionize Contemporary Dance?
With: Gilles Jobin, Director and Choreographer of VR_I, Nunu Kong, Choreographer / Performing Artist / Independent Producer, Xiaotong (Roger) Yang, Curator of VR Section, Shanghai TV Festival / Shanghai International Film Festival 2019 & Daming Zhang, Film and Theatre director / VR content creator.
Moderation: Salar Shahna, Head of World VR Forum.
JAPAN – 1st May 2019 : SPIRAL GARDEN, Tokyo
Talk: Le public danse-t-il ? « Maintenant » de la danse en pleine expansion avec la technologie
Moderation: Ryo Kanazawa, Contemporary art curator
SWITZERLAND – 16 February 2019 : HIVER DE DANSES, Théâtre du Passage, Neuchâtel
Talk : Réalité virtuelle : renouveau ou fausse promesse ?
With: Gilles Jobin, choreographer, Mélissa Rérat, art historian, Pascal Felber, dean of the Faculty of Science (University of Neuchâtel), Adrian Bangerter, professor (University of Neuchâtel).
Moderation: Izabella Pluta
FRANCE – 2 February 2019 : PREMIERS PLANS D'ANGERS, SECTION L'AIR NUMÉRIQUE, CNDCANGERS
Presentation of Womb
BIBLIOGRAPHY